Jim Caldwell was raised in Beloit, Wisconsin where he earned nine varsity letters as a three-sport athlete at his high school. During his senior year, Caldwell had an undefeated football season, won a state championship in basketball, and his 4 x 400 track squad finished second in the state. Accepting a scholarship from the University of Iowa, Caldwell earned a position as a defensive back and started all four years. He was inspired and led into coaching by Bob Cummings, his head coach at Iowa.
Caldwell had a distinguished career as a college coach from 1977 to 2000. He began as a graduate assistant at the University of Iowa, then moved on to Southern Illinois, Northwestern, Colorado, Louisville, and Penn State. In 1993, Caldwell was named Head Coach for Wake Forest, becoming the first African-American Head Coach in the Atlantic Coast Conference.
In 2001, Caldwell moved on to the NFL spending one season at Tampa Bay as the quarterbacks coach before moving on to the position of assistant head coach and quarterbacks coach for the Indianapolis Colts. After seven seasons, Caldwell was named the head coach for the Colts in 2009. During his first season as head coach, the team record was 14-2 and he because the NFL's only rookie head coach to win his first 14 games in a season in addition to the fifth rookie to reach the Super Bowl.
Following his time in Indianapolis, Caldwell's was the quarterbacks coach and offensive coordinator for the Baltimore Ravens under the leadership of John Harbaugh for two seasons. He then spent tree seasons in Detroit as the head coach for the Lions, the first African American to be hired in this position. Most recently, he spent one season with the Miami Dolphins as the assistant head coach and quarterbacks coach.
Throughout his tenure in the NFL, Caldwell had the privilege of coaching quarterback greats such as FSU's Brad Johnson and Tennessee's Peyton Manning. He now focuses his time on family, but is involved in a variety of charitable organizations including All Pro Dad, Fellowship of Christian Athletes, Midnight Golf Program, and the Charlie Sanders Foundation.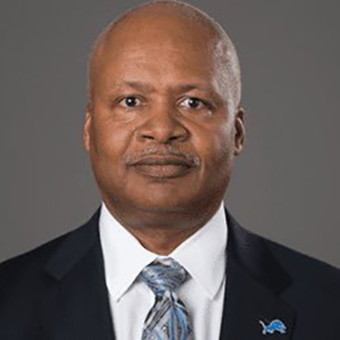 Champions Club - West Side 4th Floor (Use Elevators on the Left Outside to Enter)