Biletnikoff Award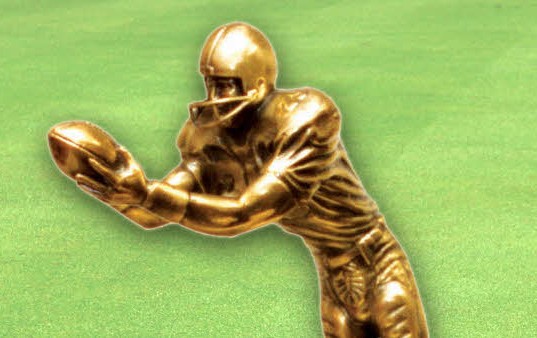 The Tallahassee Quarterback Club Foundation, Inc., (TQC Foundation), the creator and sponsor of the Biletnikoff Award (presented annually to the nation's outstanding college football receiver), is an independent, charitable organization founded in 1994. A number of people established the award and many more have contributed to its development as one of the most prominent in college football. The idea of a college receiver's award was not a novel one, as a number of organizations throughout America considered establishing it. The trophy, presented to each winner, is the most beautiful individual award in college football – it has won several national awards for design excellence and aesthetic appeal.
Over 100 Prominent journalists, commentators, announcers, and former players select the winner through a process audited by a CPA firm. While the TQC Foundation Trustees manage the organization, they have no role in the winner's selection. The award is presented annually on the ESPNU College Football Awards Show.
The TQC Foundation's mission also includes the provision of generous college scholarships to local high school students who have overcome significant emotional, physical, and environmental barriers. The annual banquet in Tallahassee, Florida, attended by 500 supporters with a keynote address by a prominent national figure, showcases each year's award winner as well as the scholarship recipients. Over 70 students have received college scholarships.
The annual awards banquet is held during February in our hometown of Tallahassee, Florida. Because the Foundation pays no salaries (all work by the Trustees is contributed), each financial contribution is directed to scholarship assistance.
Upcoming Events - RSVP by clicking Read More