2022 Speaker Schedule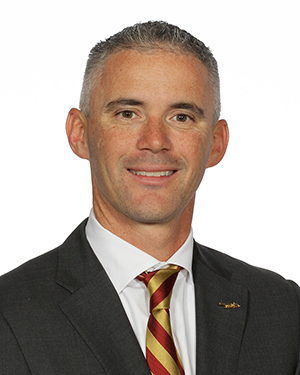 Tuesday, August 23
Mike Norvell
Mike Norvell is entering his third season as the head coach at Florida State University.  Prior to joining the staff at FSU, Norvell built his reputation as one of the top rising coaches in college football. Norvell began his coaching career as a graduate assistant in 2006 at his alma matter the University of Central Arkansas, where he was a wide receiver from 2001 – 2005.  After one season, he moved to the University of Tulsa where he held several positions starting as a graduate assistant and wide receivers coach before serving two years as the passing game coordinator. Novell then spent a year as a co-offensive coordinator at Pittsburg.
Coach Norvell spent four seasons at Arizona State as the offensive coordinator.  During his time at ASU, his teams averaged 38.1 points per game, and he was named deputy head coach at the end of the 2013 season.  He then was named the head coach at the University of Memphis where he led the Tigers to at least eight wins per season, and twice finished with a ranking in the top 25.  In his final year, the team finished 12-1, won the American Athletic Conference, and appeared in the Cotton Bowl. As this football season approaches, Coach Norvell is preparing the Seminoles for an amazing season.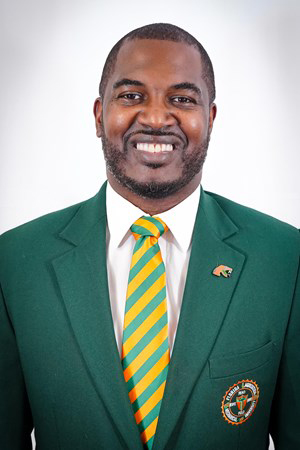 Tuesday, August 30
Willie"Shotgun" Simmons
Willie "Shotgun" Simmons is a native of Quincy, Florida where he had a distinguished career as a player at Shanks High School.  Simmons was offered scholarships to play at the college level with 25 schools, and signed with Clemson University. In addition to a phenomenal collegiate career, Simmons was stellar in the classroom and earned his Bachelor's Degree in Sports Marketing in only three years, the fastest any player had ever graduated from the school.  Simmons attempted to transfer to FAMU for his senior season, but was deemed ineligible to compete due to FAMU's provisional status as a Division 1-A program. Instead, he enrolled at The Citadel. During his senior session he received All-Southern Conference First Team honors after leading the team to their first non-losing season in 10 years. While under his leadership, the Bulldogs also defeated Furman, Appalachia State, and Georgia Southern in the same season, a feat that had only been done by Marshall University.
Simmons began his coaching career in 2005 right here in Tallahassee as the quarterbacks coach and passing coordinator at Lincoln High School, coaching USF and Super Bowl Champion BJ Daniels.  After one season, Simmons moved back to Clemson as a graduate assistant who focused his energy on the quarterbacks.  In 2007, Simmons moved on to Middle Tennessee State University where he spent five years as the running backs coach, passing coordinator, and offensive coordinator before moving on to Alcorn State.  Simmons was named the head coach for Prairie View A & M in 2015.  During his three seasons at Prairie View, Simmons brought the program to contender status in the SWAC Western Division.  While at Prairie View, he had 21-11 overall record and a 19-6 league record, highlighted by his debut in 2015 with an 8-2 record with a runner up finish.
In 2018, Simmons was named the head coach for FAMU.  The program saw significant improvement as they went from a 2-6 record the prior year to 5-2 in his first season, and quarterback Ryan Stanley was named MEAC Offensive Player of the Year.  Improvement continued into 2019, as the air attack was unstoppable and the team had a 9-2 record, the sixth best winning percentage in the nation, and they won the HBCU National Championship.  Last year FAMU made the FCS playoffs for the first time since 2001. The biggest win for the Rattlers last year was their final regular season game where they defeated the Wildcats 46-21 in the Florida Classic. 
Tuesday, September 13
Troy Vincent
Troy Vincent is the Executive Vice President of Football Operations for the National Football League, a position he has held since 2014.  Troy's focus is on enhancing and preserving football and its value to society, using the game to positively impact people's lives through excellence and service with the application of clarity, consistency, and credibility in football operations.  In this capacity, Troy is also a member of the American Football Coaches Association, an organization that represents coaches across the United States, and is often consulted by the NCAA and media regarding rule changes and developments occurring in college football.  
Prior to joining the NFL in this capacity, Troy was a cornerback for the Miami Dolphins, Philadelphia Eagles, Buffalo Bills, and Washington Redskins.  He was drafted by the Dolphins as the 7th overall pick in the 1992 NFL Draft.  Troy played football in college for the University of Wisconsin.  He was inducted into the Sports Hall of Fame for the Philadelphia Eagles, and was entered into the Hall of Fame for the State of Pennsylvania, the University of Wisconsin, and his high school alma mater, Pennsbury High.
Troy Vincent is above all else a humanitarian, as evidenced through not only his work ethic with the NFL, but his role as a husband and father, and the intentional work he and his wife do through their foundation, Love Thy Neighbor.  He has positioned himself as a national leader and advocate against domestic violence, sexual assault and child abuse.  His goal is to use his influence to promote leadership over violence, encouraging others to use their platforms to fight injustice and be an inspiration to those who look up to them.  Troy believes his ultimate purpose in life is to serve others in realizing and pursuing their life's passion.
Tuesday, September 27
Mike Smith
Raised in Daytona Beach, Mike Smith played linebacker at Father Lopez Catholic High School then collegiately for East Tennessee State University.  Following his playing days, Smith took up coaching, where he held a variety of positions at San Diego State, Morehead State, and Tennessee Tech before being named the defensive assistant and defensive line coach for the Baltimore Ravens in 1999.  In 2002, Smith was promoted to the linebackers' coach, and had the opportunity to coach future standouts such as Ray Lewis and local legend Peter Boulware.  Following his Super Bowl XXXV win with the Ravens, he was named the defensive coordinator for the Jacksonville Jaguars where he spent five seasons before accepting the head coaching position for the Atlanta Falcons in 2008.  In 2010, Smith led the team to a record 13-3, earning the NFC South title for the team's second time and fourth divisional championship.  During his career with the Falcons, Smith became the franchise's winningest coach, and was awarded the 2008 NFL Coach of the Year Award by the Associated Press and for the Sporting News in 2008, 2010, and 2012.
Tuesday, October 11
Lee Fitting
Lee Fitting is the senior vice president of production for ESPN, overseeing the company's NFL and college football properties. The 25-year ESPN veteran was promoted to his current position in 2019, adding ESPN's NFL studio operation to his robust portfolio, which already included Monday Night Football and college football's studio and game operation across all networks including the College Football Playoff, a 35-game bowl schedule and approximately 1,000 regular season games each year.
In 2017 Fitting broadened his oversight to include Monday Night Football in addition to his existing portfolio of college sports.  With an impressive track record of success as Vice President of College Sports, Fitting was instrumental in the growth of the College Football Playoff and steered the ship on ESPN's industry leading college football and basketball regular and post season coverage across ESPN networks, to include its college networks – ACC, Longhorn and SEC Networks. In addition to game duties, he led ESPN's college sports studio programming, including the 12-time Emmy Award winning College GameDay Built by The Home Depot. Fitting's history with College GameDay is extensive.
A graduate of James Madison University, Fitting earned a B.S. in mass communication in 1996. He is a native of Orient, New York.
Tuesday, October 25
Jim Caldwell
Jim Caldwell was raised in Beloit, Wisconsin where he earned nine varsity letters as a three-sport athlete at his high school.  During his senior year, Caldwell had an undefeated football season, won a state championship in basketball, and his 4 x 400 track squad finished second in the state.  Accepting a scholarship from the University of Iowa, Caldwell earned a position as a defensive back and started all four years. He was inspired and led into coaching by Bob Cummings, his head coach at Iowa.   
Caldwell had a distinguished career as a college coach from 1977 to 2000.  He began as a graduate assistant at the University of Iowa, then moved on to Southern Illinois, Northwestern, Colorado, Louisville, and Penn State.  In 1993, Caldwell was named Head Coach for Wake Forest, becoming the first African-American Head Coach in the Atlantic Coast Conference.
In 2001, Caldwell moved on to the NFL spending one season at Tampa Bay as the quarterbacks coach before moving on to the position of assistant head coach and quarterbacks coach for the Indianapolis Colts.  After seven seasons, Caldwell was named the head coach for the Colts in 2009.  During his first season as head coach, the team record was 14-2 and he because the NFL's only rookie head coach to win his first 14 games in a season in addition to the fifth rookie to reach the Super Bowl.
Following his time in Indianapolis, Caldwell's was the quarterbacks coach and offensive coordinator for the Baltimore Ravens under the leadership of John Harbaugh for two seasons.  He then spent tree seasons in Detroit as the head coach for the Lions, the first African American to be hired in this position.  Most recently, he spent one season with the Miami Dolphins as the assistant head coach and quarterbacks coach.
Throughout his tenure in the NFL, Caldwell had the privilege of coaching quarterback greats such as FSU's Brad Johnson and Tennessee's Peyton Manning.  He now focuses his time on family, but is involved in a variety of charitable organizations including All Pro Dad, Fellowship of Christian Athletes, Midnight Golf Program, and the Charlie Sanders Foundation.

Tuesday, November 15
Darius "Dari" Nowkhah
Dari Nowkhah is a native of Tulsa, Oklahoma, and 1998 graduate of the University of Oklahoma earning a degree in broadcast journalism.  He began his career in Montana where he was the sports director for a local station for two years, receiving first place in sports reporting in the pacific northwest from the Society of Professional Journalists.  He then moved on to a position as a sports anchor for a local station in Lincoln, Nebraska, and then on to a position with a CBS affiliate in Tulsa, Oklahoma.
Nowkhah joined ESPN in 2004 as an ESPNNEWS anchor, and in 2011 was promoted to the host of ESPNU.  He also served as a SportsCenter anchor and hosted shows that included Baseball Tonight and College Football Live.  Currently, Nowkhah is the host and anchor on the SEC Network.  He regularly appears on SEC Now during the week, and Saturday evenings during football season.  In addition, it is not uncommon to hear Dari calling play-by-plays for men's basketball and baseball, and you can hear him as a co-host on ESPN Radio's weekly Dari and Mel Show on Saturdays.  In 2013, he was recognized by the Gaylord College of Journalism and Mass Communication at the University of Oklahoma as the Young Professional of the Year.
Tuesday, November 29
Special "Sign Off" Event for The Voice - Gene Deckerhoff with Special Guests
Join the TQC and Special Guests as we host a special "Sign Off" event for The Voice - Gene Deckerhoff for members and sponsors only.
Gene Deckerhoff began his career as a sports broadcaster in 1964 as he was finishing up his bachelor's degree.  His career at FSU began as a co-announcer for FSU Basketball in 1974. In 1979, he was named as "The Voice of the Seminoles," starting his career with FSU Football.  In 1989, he was named "The Voice of the Buccaneers."
This special "Sign Off" Event for will be for members and sponsors only.  More details to come.
T
uesday, December 13 - Annual Jamboree Awards Night
ESPN's Marty Smith
Marty Smith is one of ESPN's most popular and recognized reporters and hosts who currently covers a variety of sports including college football, basketball, both the NFL and NBA, NASCAR and others. Smith's features and reporting are often seen on ESPN platforms including SportsCenter and ESPN.com. Smith, who joined ESPN in 2006, launched his own show Marty Smith's America in August 2017 on ESPN2.
In addition to hosting Marty Smith's America, Smith co-hosts the popular radio show Marty and McGee on SEC Network and ESPN Radio. Smith also guest-hosted SEC Network's traveling college football show, SEC Nation, during Fall 2019.
From 2007-2014, Smith was ESPN's lead NASCAR reporter for both SportsCenter and the former NASCAR Now program. In addition to reporting for SportsCenter and writing news and features for ESPN.com, Smith also contributed to ESPN's NASCAR event television coverage, which ended at the conclusion of the 2014 season, with numerous unique features and extensive, in-depth and revealing interviews with nearly every top driver in the sport.
Prior to joining ESPN, Smith was a senior writer for NASCAR.com, an analyst and host on the former SPEED Channel and a NASCAR analyst on Fox Sports Net. A Radford University graduate, Smith covered sports for daily newspapers in Roanoke and Lynchburg, Va., before joining NASCAR.com.