Troy Vincent is the Executive Vice President of Football Operations for the National Football League, a position he has held since 2014. Troy's focus is on enhancing and preserving football and its value to society, using the game to positively impact people's lives through excellence and service with the application of clarity, consistency, and credibility in football operations. In this capacity, Troy is also a member of the American Football Coaches Association, an organization that represents coaches across the United States, and is often consulted by the NCAA and media regarding rule changes and developments occurring in college football.
Prior to joining the NFL in this capacity, Troy was a cornerback for the Miami Dolphins, Philadelphia Eagles, Buffalo Bills, and Washington Redskins. He was drafted by the Dolphins as the 7th overall pick in the 1992 NFL Draft. Troy played football in college for the University of Wisconsin. He was inducted into the Sports Hall of Fame for the Philadelphia Eagles, and was entered into the Hall of Fame for the State of Pennsylvania, the University of Wisconsin, and his high school alma mater, Pennsbury High.
Troy Vincent is above all else a humanitarian, as evidenced through not only his work ethic with the NFL, but his role as a husband and father, and the intentional work he and his wife do through their foundation, Love Thy Neighbor. He has positioned himself as a national leader and advocate against domestic violence, sexual assault and child abuse. His goal is to use his influence to promote leadership over violence, encouraging others to use their platforms to fight injustice and be an inspiration to those who look up to them. Troy believes his ultimate purpose in life is to serve others in realizing and pursuing their life's passion.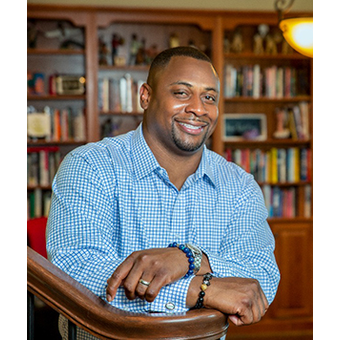 225 Champions Way Building B, Tallahassee, FL 32304, USA